The West Times Gold Project covers over 114 square kilometres completely surrounding Lake Shore Gold's TimesWest discovery.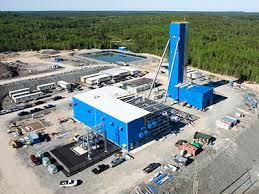 The project includes 30 known zones of gold mineralization and has two active joint ventures, one with Lake Shore Gold Corp. and the other with Goldcorp Inc.
"Geologically, the area has long been considered favourable for the finding of gold deposits, as it lies directly along the strike of formations exposed in the Porcupine fields, in which the famous Hollinger and McIntyre mines are located."
– J. E. Hawley, 1926 describing the geology of the West Times Camp
Almost 80 years later the results of the Ontario Government's Discover Abitibi Project have confirmed that the rocks of the Lower Tisdale Group, which host the world famous Hollinger, McIntrye and Dome Mines, are also exposed in the West Times Camp.
The science, and Hawley's hypothesis, have been validated by the discovery of the Company's Golden River Zone and the expanding gold resource on Lake Shore Gold's adjacent Timmins West Property.
The understanding of the West Times Camp is evolving rapidly and the West Times Mining Inc. is positioned to be a major player in this evolution.